Bleary-eyed, my Nokia alarm woke me at around 4am so that I could roll off my suitcases and finish zipping the last of what I need to take with me into the case. I couldn't really think, my hair was a mess, I didn't get a chance to wash it, so I tied it under a bandana shoved my hat on it and thanked the Lord above that I had decided to bathe before going to sleep.
I hate packing. I hate early morning short haul flights even more. My taxi driver was phoning me complaining that I hadn't come out the door as yet. 'I'm coming I'm coming' I yelled back at him as my case hit every stair on the way down.
I can't pack light, there are just too many potentialities that I have to account for when travelling. 22 Kilos, just ain't enough. My mate Pam had texted me, she had woken 5 minutes before her cab had arrived to take her to Victoria where she was meeting the Gatwick Express. If she missed the train, she was gonna miss the plane. I estimated she would be at the Airport before we had even left Croydon.
We eventually pulled up in front of the South Terminal, said goodbye to our driver (49 we call him) and head off to find Pam. She's there ready and waiting, and after some jollying at the airport with tickets and security we go through, board the plane and sit down with newspapers, sweets and iPods.
As soon as we're aboard and the plane takes off, my friends close their eyes and nod off to sleep, I, on the other hand, am wide awake and bored. I don't like short haul. Too little time to sleep, to much time to be stuck in a chair. At least the leather chairs were comfy and full, not like the small ones BA shoehorn you into on long haul to JA. Just over three hours and 20 minutes later we are clearing immigration and customs at Marrakech airport.
The four of us had a suitcase or large bag each and at least one other carry-on. I hastily grabbed my camera bag from the driver who was trying to jam it into the already full boot of the Mercedes.
"That's ok I will carry this on my lap",
I said climbing into the front seat of the car. I wasn't entirely convinced that the boot was going to stay tied on our journey into the city so felt better with it sitting on my lap, amongst the other three bags I had around me on the floor. Our taxi from the Airport cost 200 dirhams, although we later found this to be double the price it should have been for the 10-minute journey.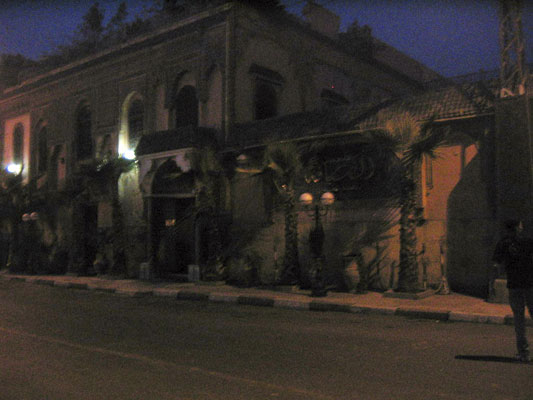 Pulling up to our Riad, my first thought was 'Oh dear have we made a big mistake?' The streets around where we stayed were wide boulevards, very clean looking, while the road on which our Riad was located looked quite run-down in comparison. Nevertheless paying the driver, we entered the building and was pleasantly relieved. The interior was beautifully ornate and pleasant.
A Riad is a Moroccan house which has an interior courtyard or garden. The sunshine filtering down to ground level makes it a very peaceful atmosphere which we spent soaking up on many occasions during our week long stay. In fact, we spent most of the day here on our arrival day, eating and drinking many pots of Mint tea, while relaxing on the low sofas in the lounge area.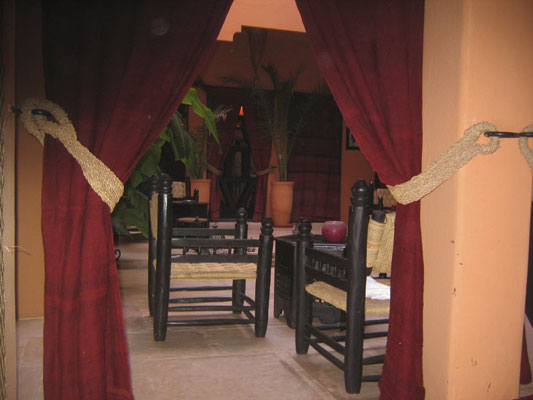 Dar Atta has a full complement of staff that catered for our needs day and night, and we felt that nothing was too much trouble. They were attentive without being overbearing and the ones who spoke no English attempting to communicate with us as best they could in French.
Dar Atta has at least two English speaking staff members; however, if you can speak even a smattering of French, you will be able to communicate with most Moroccans.
All the rooms in this Riad have ensuite bathrooms, and the superior suites have a small sitting area which to be honest we never used as there are also tables and chairs on each landing where you can relax and chill-out or even eat breakfast. Also, there were beautifully comfortable sun loungers and even a covered area on the Roof Terrace. The only thing missing from the Riad was a swimming pool on the roof. The Riad also has a hammam, a place for bathing and massage which is a large part of Moroccan culture. I felt really relaxed and at home in the Riad.
The four of us took no time at all to feel like it was our home away from home, spending little time in our rooms and lots either on the Terrace or in the lounge on the ground floor. We kicked off our sandals, lay on the couches discussing world events, the upcoming week and the state of airport security. Our first evening in Morocco we eat at the Riad where we were served Chicken and Fish Kebabs, Tagine of Lamb, Moroccan Salad and copious amounts of Mint Tea, of which I couldn't get enough.