Where did day three go? Our fourth day in Morocco saw us venture to the coastal town of Essaouira. From Marrakech it had been a three and half hour drive along relatively quiet roads through the desert, passing through 3-4 large cities on the way. This did include stops at an Argan Community Co-op, and strangely by a man who had positioned his goats in a tree and who then flagged down passing tour groups so that we could photograph the 'spectacle'.
The glorious view of the town of Essaouira is what you see upon approaching it. Our driver stopped for the photo opportunity, or maybe he thought we wanted to have a ride on the Camel that was being paraded around a 20ft paddock by what I assume was his owner.
Personally, I am not fond of the animals as I have heard that they spit, and this one, in particular, was staring me down. Not willing to take any chances I moved away and managed to get this unobstructed view while the camel man bothered someone else.
On entering, we were taken directly to the sea coast which features impressive ramparts, built by the Portuguese during the 16th century to protect the town. Essaouira according to our guide means 'city of design', and he explained to us that it was the first town within the country specifically designed to look like no other Moroccan city.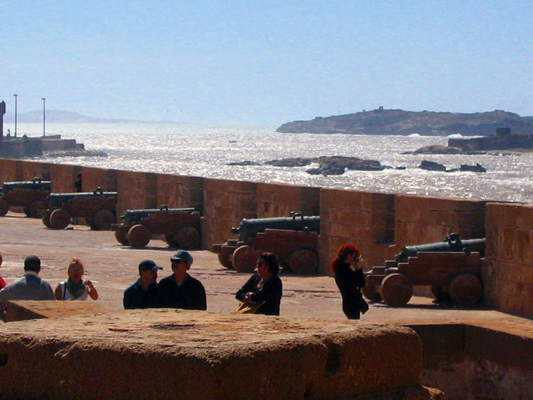 As with other areas of Morocco that we had visited, it seemed evident that the local economy was intent on developing a tourist-friendly environment. However, it is also very noticeable that you are not surrounded by businesses and people, whose sole purpose is to cater to foreigners. Locals went about their daily business and pretty much ignored you.
I noticed that if you take out a camera, much like in London, people do their utmost not to be photographed, either by moving out of the shot or by covering their faces. Being aware of this made me limit picture taking to areas of low people traffic, concentrating on the land/seascapes and the architecture.